Single skin tile effect sheets
Visually more acceptable in sensitive area
Can be used on Low Roof Pitches
Speed and Ease of Fitting
Fraction of the Cost of Traditional Tiles
Fraction of the Weight of Traditional Tiles
PVC Coated Leathergrain finish on Galvanised Steel
7 box profiles for added strength, giving 1 Metre cover
External Finish: Plastisol or Polyester Coating
Internal Finish: Smooth Light Grey Polyester
External Profile: RC32/1000 32mm profile height, 167mm pitch
Standard Width: 1000mm
Max Length: 7000mm
Minimum pitch: 10 degrees
External Gauge: 0.5mm Steel
Weight: 0.5mm thickness – 4.89kg/m2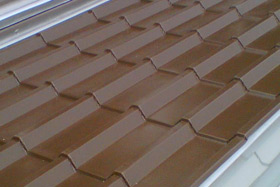 Single skin tiled roofing sheet
These Tile Effect sheets are fitted the same as standard sheets with a self drilling screw through the sheet into the joist below. The tile effect pattern occurs every 315mm (12.5ins) down the length of the sheet. Ideally for effect the screws should be located just below the end of the tile.
You don't need to fix every 315mm, so multiples of 315mm will do. If you aren't able to locate the screws in this position, then fitting them to suit your existing purlins is not a problem. All screws come with colour caps which match the colour of your sheets.
These sheets are manufactured to your exact lengths and they give 1 metre width cover.
As with all sheets, start by laying the sheets at the opposite end of the roof away from the prevailing wind,so the overlap is facing downwind.