Single skin box profile sheets
Ease and speed of fixing
Economic and quick to install
7 profiles for added strength
1 metre cover after overlapping
External Finish: Plastisol or Polyester Coating
Internal Finish: Smooth Light Grey Polyester
External Profile: RC32/1000 32mm profile height, 167mm pitch
Standard Width: 1000mm
Max Length: 13000mm
Minimum pitch: 10 degrees
Gauge Thickness: 0.5mm and 0.7mm
Weight: 0.5mm thickness – 4.89kg/m2, 0.7mm thickness – 6.69kg/m2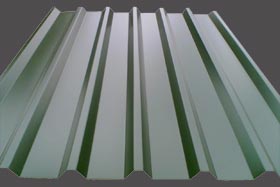 Single Skin Roofing Sheet
Colour Coated metal products have, over the last 40 years, played - and will continue to play - a key roll in the development of industrial buildings. Today, new technology and design has allowed the use of some products to be used in domestic situations also, as they look good, are quick to install and are relatively easy to use.
Not only are they strong, lightweight and last for years but they offer a practical and cost effective way of covering a project in a choice of colours and most importantly, are available in custom made lengths.
This can be an advantage on a low pitch roof by eliminating where possible, the need for overlapping a series of shorter sheets and the various problems they can give at the point where they overlap. Box Profiled Roofing Sheets all look similar but one of the main points to consider when deciding on a product is the strength of the sheet. This is decided by the gauge and the amount of profiles across the sheet and the depth of the profiles. The more profiles there are and the deeper they are, the stronger the sheet.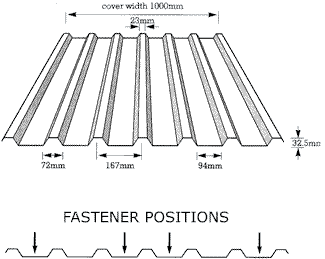 RC 32/1000mm profile with 7 profiles. It is suitable for roofing and side cladding applications.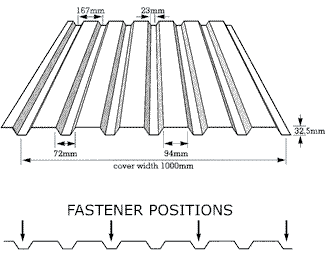 RC 32/1000Rmm profile with 7 profiles. It is suitable for side cladding applications only.