Insulated box profile sheets
Ease and speed of installation
Guaranteed and uniform insulation coverage
An increase in allowable spans due to its strength and rigidity
The core is unaffected by bacteria, mould or fungi, nor will it provide nutrient value for insects and vermin
Non-toxic and odourless, CFC and HFC free, it will not deteriorate when properly installed
The skins have a Class 1 surface spread of flame and attain a Class 0 rating
External Finish: Plastisol or Polyester Coating
Internal Finish: Smooth Bright White Polyester
External Profile: RC32/1000 32mm profile height, 167mm pitch
Internal Face: Planked
Standard Width: 1000mm
Max Length: 7000mm
Minimum pitch: 10 degrees
External Gauge: 0.5mm Steel
Internal Gauge: 0.4mm Steel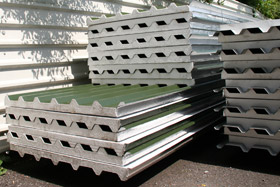 Insulated roofing sheet
Thermaclad RC 32/1000mm is a fully bonded composite roofing panel for roof and side cladding.
Cut-back of roofing sheet
When ordering Insulated panels, you may need to inform us of your preferred direction of lay, left to right or right to left, as viewed from the gutter. It may be important that you establish the direction of the prevailing wind, as the Insulated sheets have a *cut back at the gutter end to allow the water to run off the top sheet successfully. (a cut back is where the insulation and inner sheet are cut back away from the top sheet). So you will not be able to change the direction of lay once the sheets are manufactured. As before, start by laying the sheets at the opposite end of the roof away from the prevailing wind, so the overlap is facing downwind.