Anti-Condensation sheets
Economic way of dealing with condensation problems
No need to buy additional materials, plywood, roof felt etc
Membrane is resistant to ageing and can be cleaned with hose or pressure washer
Provides an additional layer of protection to the metal
Bacteria resistant
Additional sound insulation and a reduction in rainfall noise
Resistant to attack by micro organisms, fungi, larvae, insects and mildew. Wash with hose or pressure washer if needed
Material: PES Fibres
Combustability: A2-s1; d0 (EN 13501-1)
Weight: 150G/m2
Thickness: 1.7mm
Profiles: RC 32/1000 and Tileclad
Water Absorption: 1Litre/m2
Colour: Mottled light grey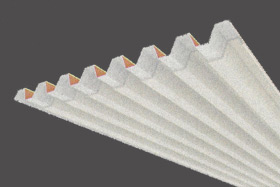 Anti-Condensation roofing sheet
Condensation on uninsulated roofs is a major problem on all buildings large or small and causes both considerable damage to the contents below and inconvenience to it's occupants.
This product is a special fleece membrane applied to the underside of steel sheets during manufacture. The membrane consists of a large number of interlaced PES fibres.They work by absorbing condensation (One metre will absorb up to 1 Litre of water) when outside temperatures fall and then slowly release the moisture back into the atmosphere when the temperature raises during the day. It has several other advantages as it is supplied ready to fit and and doesn't require the purchase of any additional materials such as Plywood, felt etc. The membrane once applied also gives additional sound insulation thereby reducing the noise of rainfall, hail etc.
Points to remember:
It is important that sufficient ventilation is provided to allow the fleece to work properly. Ventilation at the eaves and ridge should not be obstructed by closing these points with standard profile fillers. You can either leave these points clear of fillers, or if it is necessary to close these areas, then a ventilated profile filler can be fitted. This is so air can flow through these points and the membrane can complete it's cycle of absorbtion and release, as demonstrated in the diagram below.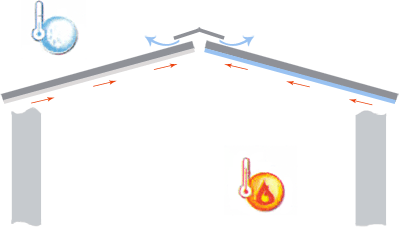 Condensation can:
cause damage to stored goods and materials
worsen insulation capabilities
disturb activities inside the building
damage the roof (frost, accelerate rust)
How does DR!PSTOP work?
DR!PSTOP is made of a large number of interlaced PES fibres among which there is enough space to store water drops. DR!PSTOP serves as a medium for absorbing condensed water drops which evaporate back into the air when the temperature rises. For this process it is important that there is some air circulation (ventilation) present.
When overlapping a sheet onto the adjoining sheet, the fleece running flush to the side edge must be on the underside of the overlap. The side where the fleece doesn't run flush to the side edge should always be on top of the overlap.
If used in Livestock buildings the membrane should be pressure washed with fungicide at least once a year or as needed.